Mitsubishi Drives Repair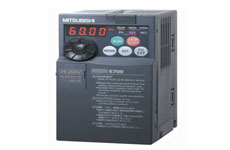 Mitsubishi Drives Repair in Delhi, Mitsubishi Drives Repair Services in Delhi, Mitsubishi Drives Repair Price in Delhi, Mitsubishi Drives Repair Cost in Delhi. We offer mitsubishi servo amplifiers and servo motors. The new mr-j3 generation of servo drives delivers state-of-the-art technology and simple operation in a very compact package. New functions like the advanced vibration suppression system and the further improved real-time auto tuning ensure maximum precision, very short positioning times and simple installation. The new amplifiers are a full 40% slimmer than those of the mr-j2 super series. . The mr-j3 series is available in three versions: the mr-j3-a models are suitable for drive systems with conventional control and are designed for regulating speed, torque and position control tasks. The mr-j3-b models are specified for complex, multi-axis movement sequences and for use in networked automation systems. A servo amplifier with built-in positioning (mr-j3-t) is also available. The units configure themselves by plug & play for mitsubishi electric's motion control and positioning control systems, to which they are connected via the high-speed optical sscnet iii network, which has a cycle period of just 0. 44 milliseconds. The mr-j3 is currently available with outputs from 50w to 7kw. Units with higher outputs are being added to the range at regular intervals.

Servo systems upgrade
If your servo drives, servo motor and Controller (any make) is obsolete?
We Upgrades New series servo drives & servo motors and Exchange your old servo drive and motor with 18 months warranty.
If you are looking for Servo Drive and motor, please call us. We will do our best to help you find the Servo Drives that you are looking for at the most competitive prices possible.
We service, repair, replace, built, rebuild, regrind, recondition, refurbish, re manufacture, retrofit and overhaul all servo drive and motor.